Microsoft Windows 10 is a fantastic operating system, but many users are unable to take benefit of all of its capabilities due to a lack of knowledge.
Microsoft Windows 10 is a fantastic operating system with a ton of features that can make your life easier, but you're missing out if you don't know how to utilize them.
Win 7 Start for Win 10 is the ideal answer for those who wish to take use of all of Windows 10's capabilities but are unsure how to do so. In this article, Edon Lazaj will help you makes switching between Windows 10 and Windows 7 a breeze, allowing you to learn about all of the new features at your own pace.
You can use win 7 start for win 10
In the past, there was a piece of software known as Classic Shell that anybody could use to install in order to revert back to the original Windows start menu. However, because its developers have not been maintaining it, it is currently not possible to use it in any way shape or form.
In spite of this, because to the fact that its source code is available to the public, another software developer was able to construct Open Shell, which is the program that will eventually replace it. It is being actively developed, and as a result, its Start Menu in the classic form is compatible with Windows 7, 8, 8.1, and 10…
Download Open Shell, the most recent version of the Classic Shell fork
Downloadable versions of both the Open Shell project and its binary executable can be found on the website Github. This is the link to the page; please go there and download the program titled "OpenShellSetup x x .exe."
Install  the Classic Shell
When you install the software, you will find that the name of it is still Classic Shell, despite the fact that the name of the software file is Open Shell. Therefore, don't let yourself become mixed up and let you win 7 start for win 10.
It is not the outdated and defunct version but rather the most recent one that is compatible with Windows 10, although keeping the older name. Installing this one is exactly the same as installing any other Windows software.
Enable Windows 7 start menu for Windows 10
Launch Open-Shell once it has been installed on your computer. There are a lot of different designs of start menus available to choose from. This means that in addition to Windows 7, you also have styles comparable to Windows Vista and Windows XP.
Choose the start menu layout that you wish to use with Windows 10; in this example,  using the Windows 7 Classic start menu. You can follow the same steps, and then after you're done, click the OK button.
Now that you've done that, go back to the Start menu on Windows 10 and click on it again. This time, instead of the new metro style, you'll see the old traditional style menu. the same as the one displayed in the screenshot that can be found below.
We have access to a wide variety of skins to choose from when we click on the Skin tab, including Classic, Mettalic, Metro, Midnight, Windows 8, and Windows Aero.
How to restore the original menu in Windows 10 when using the Classic or Open Shell shell.
You may always revert to the start menu win 7 start for win 10 that was pre-installed with Windows 10 if you decide that you don't like the traditional layout or are having technical difficulties. There are two distinct approaches to taking care of that. The first one is permanent, whereas the other provides immediate access.
To acquire access immediately, press the Windows key in combination with the Shift key. On the other hand, people who want it back permanently can run the Open-Shell application from the "All Programs" menu once more and then click the "Basic Settings" button.
Choose "Windows Start Menu" from the drop-down menu that appears when you left-click there.
You can access more complex options by checking the box next to "Show all settings" which is located at the very top of the menu.
You have complete control over the appearance of alternative start menus for Windows using Open Shell's configuration options. Begin by investigating its many available choices in order to achieve the outcomes you seek.
Modifications made to get win 7 start for win 10 in the Classic Menu
The Windows 7-style menu and the Metro theme are both included in the default configuration, which will make a lot of users very happy. If you would want to make some further adjustments, all you need to do is right click on the Start button and select the "Options" option to have access to the Classic Start Menu settings.
An example of this can be found below:
If you make this pick, you will be sent straight back to the menu that was displayed the very first time that we launched Classic Start Menu.
From this menu, you will be able to make changes such as setting the layout to "Classic with two columns." You may experiment with a large number of different customizations and settings by digging further into the various tabs that are available.
Altering the column layout of the menu is only one of several customization options available to you. If you like, you can even change the icon that appears on the Start button itself. You may accomplish this by selecting "Replace Start button" at the bottom of the "Start Menu Style" tab in your computer's settings.
Choose between the Aero and Classic themes to get win 7 start for win 10, or provide your own picture.
You can locate new Start Menu buttons by doing a simple Google search for "Classic Start Menu buttons" followed by a descriptor such as "Windows 10" if you're seeking for buttons with a Windows 10 design.
The "Customize Start Menu" tab is the last one, and even if you are satisfied with everything else, you should still take a look at this one since it is extremely important to get win 7 start for win 10.
Why Would Anyone Want to get win 7 start for win 10?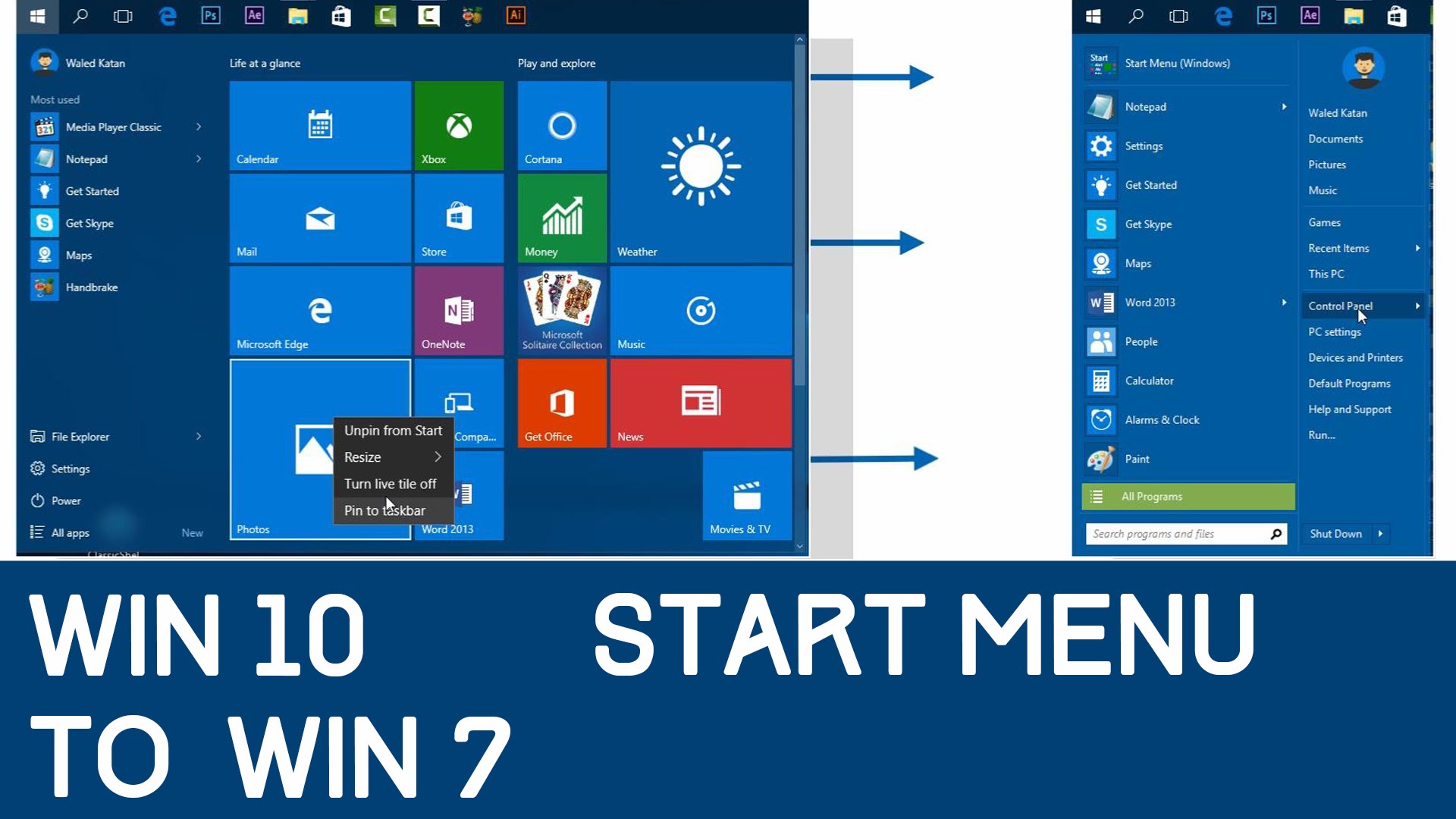 Perhaps you've found that the Start Menu in Windows 10, which is essentially an expansion and reworking of the Start Menu in Windows 7, is your new favorite feature. It's possible that the tile-based Metro UI design doesn't bother you, and that the elimination of the conventional appearance of the Start Menu isn't something that bothers you either.
The vast majority of users, however, did not upgrade to Windows 7 at all, and the enormous rollout of Windows 10 is going to force them into a whole new Start Menu paradigm that does not suit their workstyle or their sensibilities of what a Start Menu should be in the first place.
The fact that we are not huge fans of what Microsoft has done with the Start Menu in Windows 10, however, does not mean that we have a completely unfavorable attitude toward win 7 start for win 10 in general. Now, before we proceed, we do want to make it clear that we are not huge fans of what Microsoft has done with the Start Menu in Windows 10.
F.A.Q win 7 start for win 10
How to make Windows 10 feel more like Windows 7?
If you're not a fan of Microsoft's latest operating system, don't worry – it's easy to make Windows 10 look and feel more like Windows 7. With a few simple tweaks, you can bring back the Start menu, restore desktop icons, and improve performance. Let's take a look at how to make Windows 10 feel more like Windows 7.
How to get Classic Start menu in Windows 7?
1. Download and install StartIsBack++ from here.
2. Once the installation is complete, launch the application and click on the "Start" button.
3. You will now see the Start menu in Windows 7 style. To make it look even more like Windows 7, go to Settings > Personalization > Start and select the "Use Start full screen" option.
4. That's it! You can now enjoy the Classic Start menu in Windows 10.
How to boot Windows 7 from USB flash drive?
How to improve performance in Windows 7?
1. Disable unused features and programs.
2. Use disk cleanup tool to free up space.
3. Defragment your hard drive.
4. Clean up the registry.
5. Disable startup programs.
6. Use a lightweight antivirus program
7. Update drivers and software regularly.
8. Use ReadyBoost to speed up access to data on your hard drive.
Where is the Windows 7 Start menu?
The Windows 7 Start menu is located in the bottom-left corner of the screen. To open it, click on the Start button or press the Windows key on your keyboard.
Although searching for files and folders straight from the Windows 10 Start menu is quite helpful, you may modify it if you don't like the Bing Search suggestions. As a result, if you want to change the default start menu look in win 7 start for win 10, follow this guide.